Cobra Kai — сериал о том, как карате-пацан стал карате-мужиком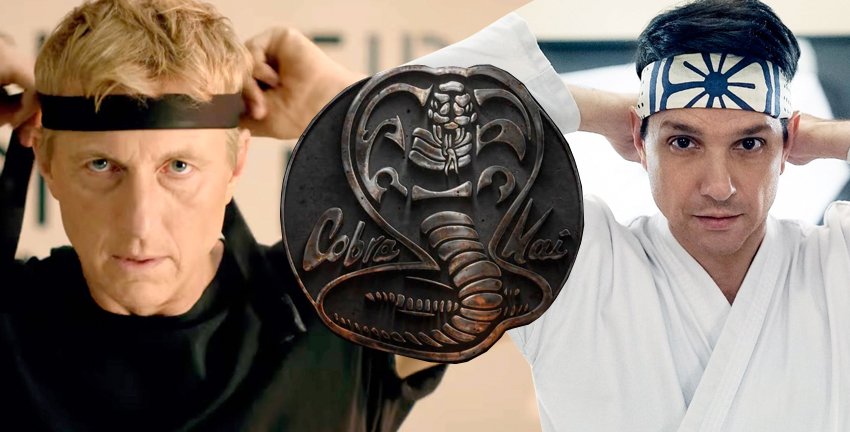 В начале мая вышел телесериал, который моментально стал сенсацией в США и только по какой-то нелепой причине не получил громкое и заслуженное признание в России. Этот сериал — Cobra Kai. И если название вам ни о чем не говорит, значит вы не росли в 80-е или 90-е.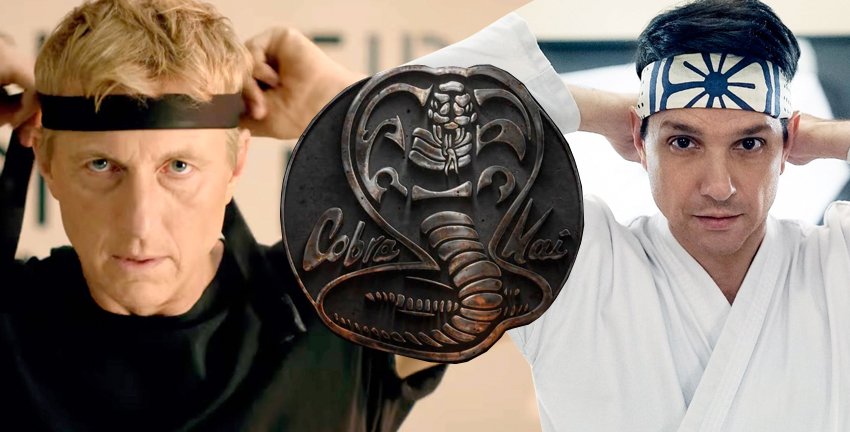 Узнавшие это громкое имя, моментально вспомнят фильм 1984 года «Малыш-каратист» (в моем детстве все называли его так, и переучиваться я не собираюсь, смиритесь). Как легко догадаться Cobra Kai — это продолжение того самого фильма, и что уж там, продолжение получилось на 10 из 10.
Сперва небольшой экскурс в историю для тех, кто не в теме. К 1984 году вышло целых три части «Рокки», а название картины стало нарицательным. Даже во время кастинга на роль Дениэла Ла Руссо — главного героя «Малыша-каратиста» — Ральф Мачио усмехнулся: «О, это история Рокки». Так и есть, сюжет фильма во многом повторяет историю знаменитого боксера.
Дениэл обучается каратэ и в финале побеждает своих обидчиков. Интересно другое — в отличие от других фильмов про единоборства, вроде того же «Рокки» или «Кикбоксера», сконцентрированных на насилии, «Малыш-каратист» прославляет пацифизм и отказ от кровопролития. Ярчайший тому пример — мистер Мияги, который дезертировал из армии перед войной и постоянно повторял ученику, что кулаки — последний способ решать проблемы.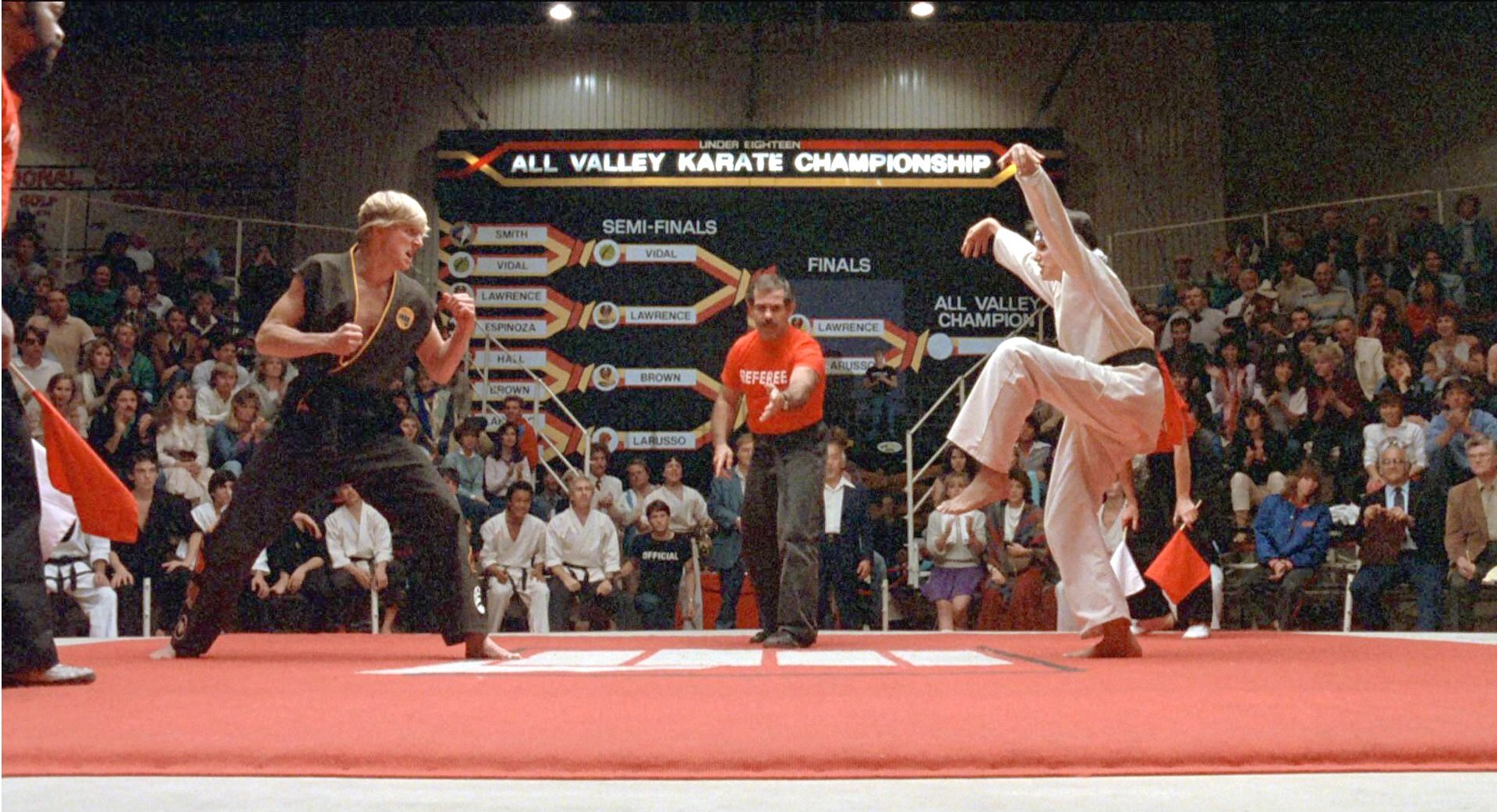 Фильм изобилует боевыми сценами с лихой акробатикой даже по современным меркам. Возможно, поэтому он и стал культовым, а, возможно, потому что там проводится явная параллель между двумя видами каратэ. Первое — уже описанное — с упором на защиту и второе, кричащее «никакой пощады!».
Тем удивительнее кажется завязка Cobra Kai, где главный герой — Джонни Лоуренс — тот самый задира и негодяй, избивавший Дениэла 30 лет назад, стал с того памятного турнира горьким пьяницей. Себя он таковым, конечно, не признает и всю вину за бесцельно прожитые годы сваливает на давнего противника, когда-то заехавшего ему ногой в челюсть.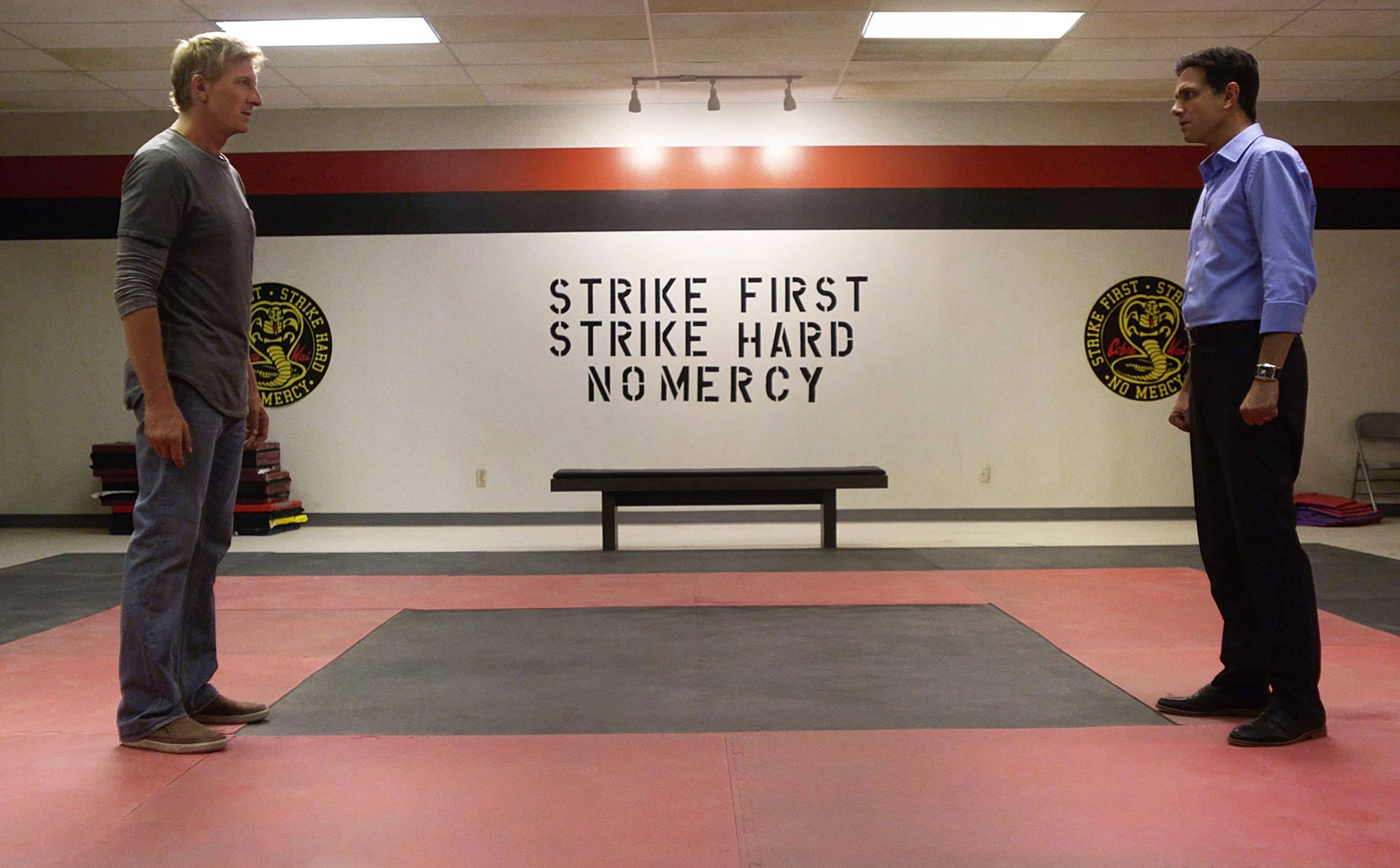 Естественно, тот пинок был против правил — его, кстати, воссоздали из удаленных кадров оригинальной кинопленки, дополнив смачным крупным планом. Естественно, Дениэлу подсудили. А что из всего этого вышло? Джонни горбатится изо дня в день, хватаясь за любую работу: то сливные трубы прочистит, то заносчивой домохозяйке телевизор на стену повесит. Тем временем со всех билбордов города на него смотрит радостное лицо Ла Руссо, ставшего успешным предпринимателем.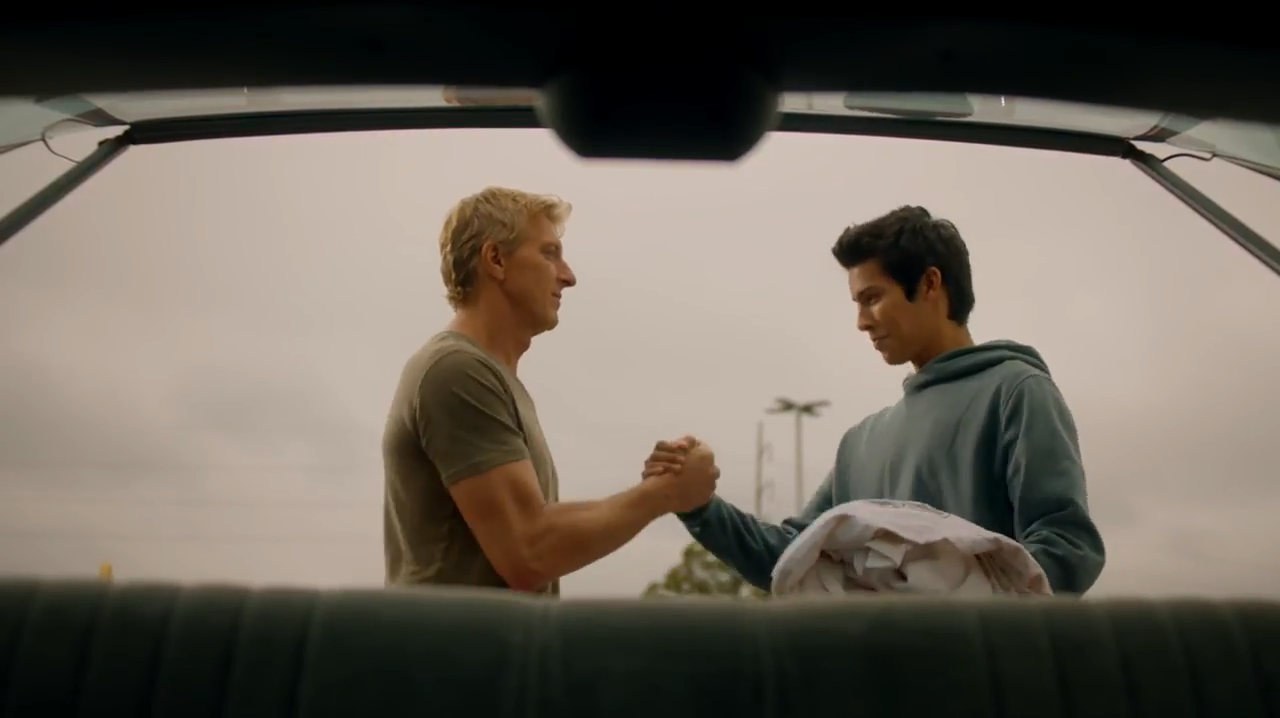 Между новым сенсеем и его учеником тоже завязывается симпатия
Фильмы «Малыш-каратист» всегда рассказывали историю неудачника — это был классический путь «из грязи в князи», и Cobra Kai верно следует традициям, меняя героев местами. На сей раз неудачник — это бывший злодей, который, отхватив в жизни горя, хочет наладить дела и возвращает то единственное, что когда-то делало его счастливым — додзе Cobra Kai. Дениэлу это место навевает самые мрачные воспоминания, будто выдернутые из кошмара. Поэтому, увидев знакомую вывеску, он делает все, чтобы она исчезла раз и навсегда. И кто теперь злодей?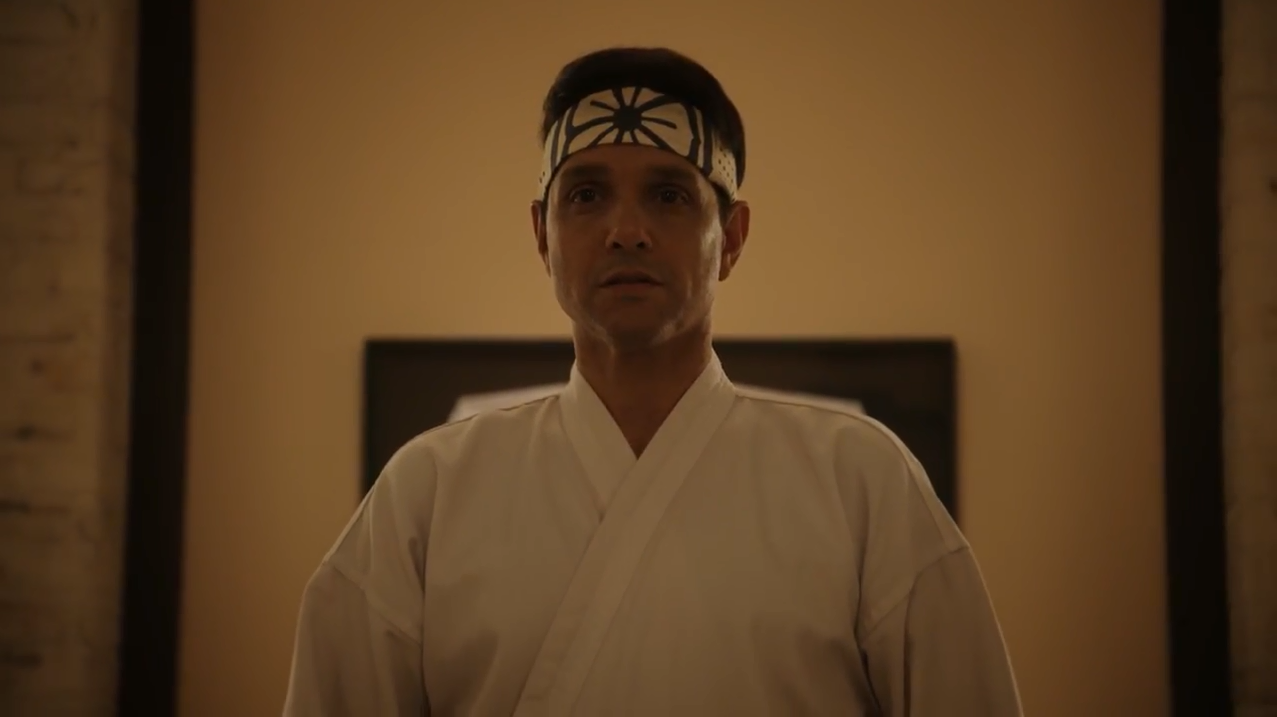 Больно видеть, как персонаж, которого ты любил в детстве, совершает необдуманные поступки, руководствуясь прошлыми обидами и тяжелыми воспоминаниями. Однако, не все так однозначно. Через весь сезон проходит мысль, которую говорит ближе к концу один из второстепенных персонажей: «Ошибки прошлого не могут диктовать будущее». И до самого конца неясно: создатели убеждают нас в этом или спрашивают, потому что в сериале, в отличие от фильма, нет абсолютных героев и злодеев.
Вместе со старыми персонажами появились и новые. Ральф Мачио долго и упорно отказывался от соблазнительных предложений воскресить киноленту, объясняя решение тем, что не попадалось хороших сценариев. Трое талантливых писателей, фанатеющих от оригинала, сумели его переубедить, одновременно передав эстафету следующему поколению каратистов. Хотя среди подростков (ученику Джонни 16 лет) нет засветившихся лиц, справились они достойно.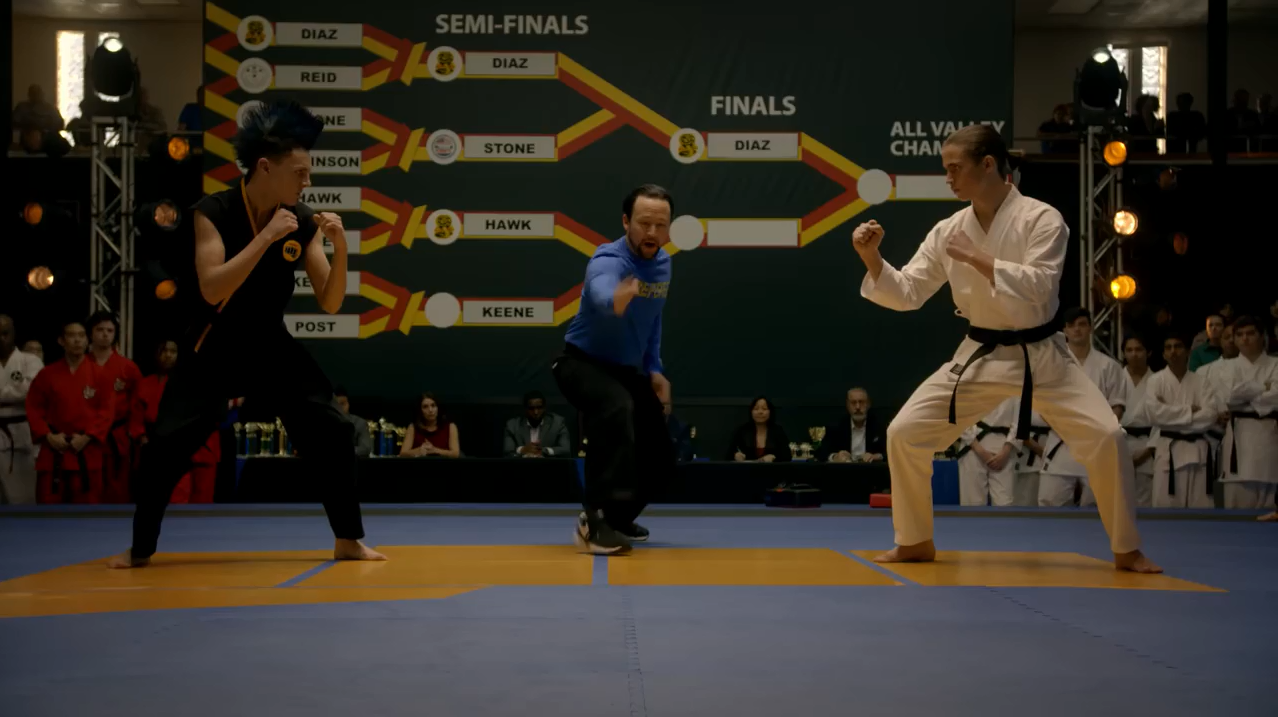 При этом авторы органично смешали симбиоз двух поколений. С одной стороны, в Cobra Kai поднимаются популярные сегодня темы феминизма и равноправия. Джонни, к примеру, отказывается обучать толстую девочку, но та быстро показывает свою истинную силу. Натерпевшись издевательств в школе, она кладет на татами его лучшего ученика.
С другой стороны, постоянно всплывают пасхалки. Когда Джонни приносит в ломбард старенькую игровую консоль, говоря оценщику, что это раритетная Nintendo, тот с недовольным видом поправляет: «Это Atari». А из колонок в это время доносится то Guns N' Roses, то Queen, то какая-нибудь менее популярная группа из 80-х.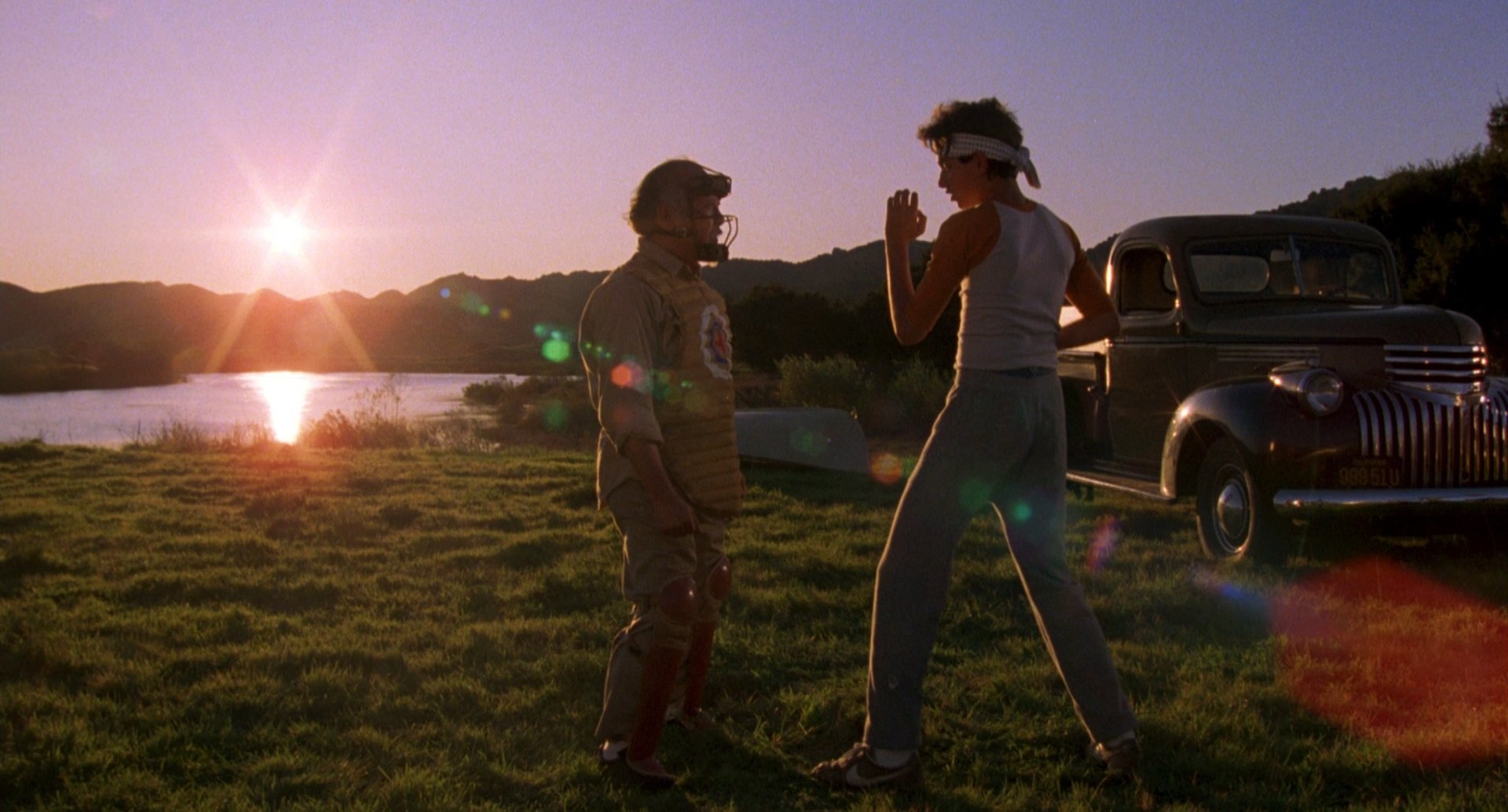 Эти песни заодно с кадрами оригинального фильма создают столь сильное чувство ностальгии, что оно моментально засасывает обратно в детство, заставляя забыть обо всем на свете. Так повлиять могло бы только продолжение «Назад в будущее», которое вдруг оказалось бы таким же смешным и захватывающим, как оригинальная трилогия. До сегодняшнего дня возвращение «Малыша-каратиста» казалось чем-то столь же мифическим. И все же оно здесь, способное выдавить скупую слезу из давнего фаната и развлечь красивыми боями нового зрителя.
Источник
Samantha LaRusso
Samantha LaRusso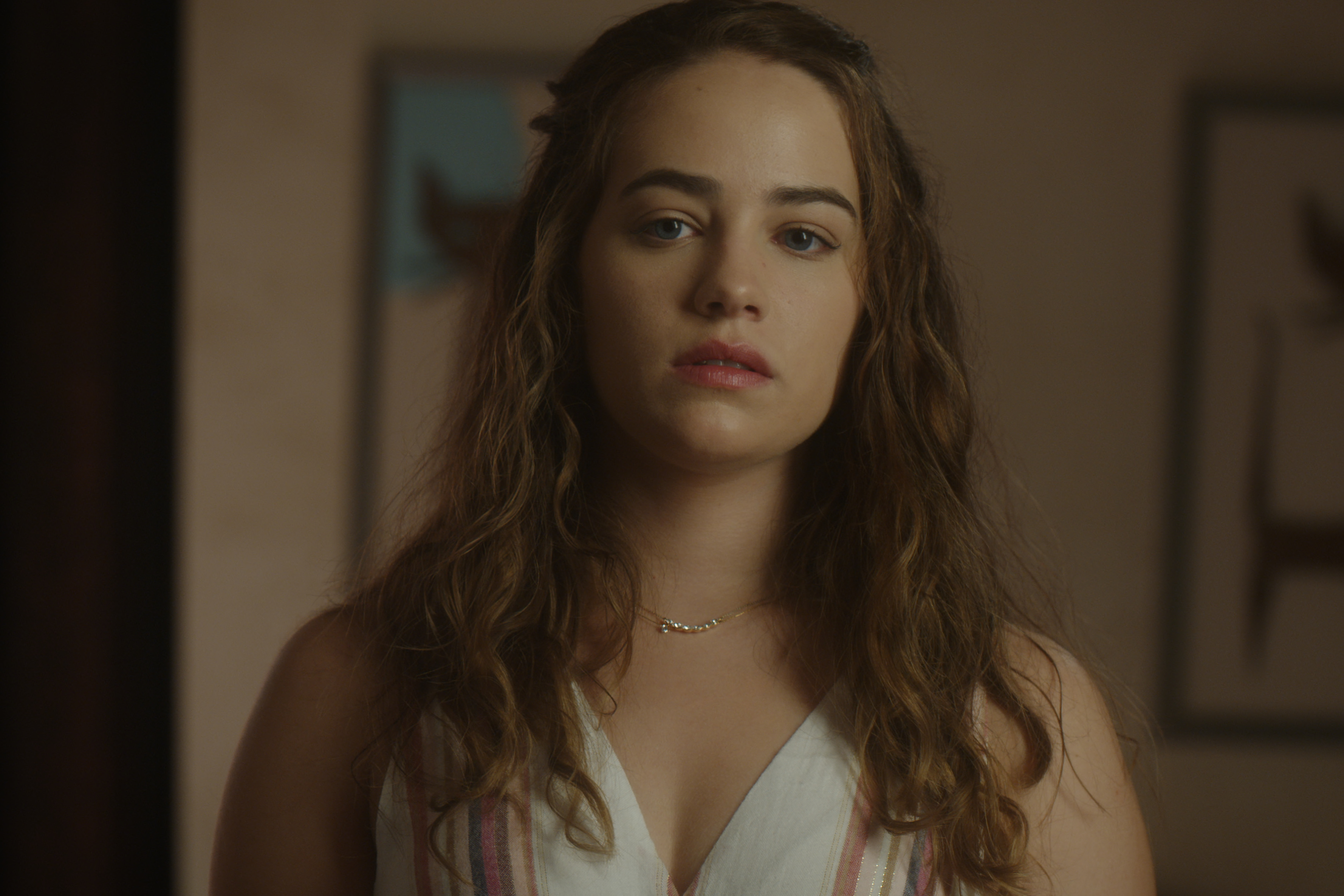 Relatives
Friends
Enemies
Love Interest(s)
Affiliation
Series Information
First Appearance
Latest Appearance
Portrayed by
"Everybody's got a sob story. Doesn't give you the right to be a bully." ―Samantha LaRusso to Miguel Diaz [src]
Samantha "Sam" LaRusso is one of the main characters of Cobra Kai. She is the daughter of karate champion Daniel LaRusso and Amanda LaRusso.
Initially part of the popular clique at West Valley High School, she soon is exiled and becomes the second student of the new generation Miyagi-Do Karate. She goes on to be of the best students. Following the karate war at West Valley High School and a huge fight with her rival Tory Nichols, Sam struggles with PTSD and is left conflicted over karate, before eventually overcoming her fear and standing up to Tory.
Contents
Biography
Pre-Cobra Kai
Samantha is the daughter of Daniel and Amanda LaRusso and the older sister of Anthony. At the age of 8, Sam was taught karate by her father, and was close to Mr. Miyagi. He described their relationship as the first time he felt like a Grandfather. As Sam got older, she lost interest in karate and quit. However, she retained her knowledge and skill.
Cobra Kai
Season 1
In her teenage years, she hangs out with the other rich, popular girls at her high school. One such friend was the queen bee of her class; Yasmine, who had been chatting on the phone when her SUV collided with a Pontiac Firebird owned by Johnny Lawrence. A furious Johnny banged on the window of the SUV, demanding Yasmine furnish her driver's license and name of her insurance agency to him. Samantha, who was in the backseat, did not know how to react, and saw Johnny as a potential crook. Yasmine, who did not know protocol for handling a car accident, drove off. When Johnny's car was towed to LaRusso Auto Group, he recognized Daniel's daughter as one of the girls he shouted at.
Her relationship with her father is strained by his meddling in her potential romance with a fellow student named Kyler, but they reconcile after Samantha sees Kyler bully Miguel's friend group and subsequently ends their relationship. When Kyler begins spreading lies about her, Samantha is briefly friendless. Miguel eventually defends her and defeats Kyler's clique in a lunch room fight, after which he and Samantha begin dating. Samantha really likes Miguel but hides their relationship from her parents because her father disapproves of Cobra Kai. A series of assumptions and misunderstandings lead Miguel to believe that Samantha is ashamed of him and involved with Robby Keene. Between that and Robby's resentment over his father's Johnny Lawrence karate tutelage of Miguel, antagonism sparks between the two boys when they meet at a beach party. Samantha is upset with Miguel's behavior and breaks up with him. After a second confrontation with Miguel at the All-Valley Tournament, Samantha returns home and resumes her own karate training.
Season 2
Sam, upset over her breakup with Miguel blocks him on social media. At first she decides not to join Daniel's Miyagi-Do Karate training because she does not want to fight her Cobra Kai friends, but soon changes her mind.
She tries to patch things up with Aisha but the latter is upset with her when Daniel insults Cobra Kai in his commercial. She develops a dislike to new Cobra Kai student Tory. When her mom's wallet is missing during a pool party she immediately accuses Tory who angrily denies having it. She then grabs Tory's hand but Tory knocks her down. This incident starts their rivalry.
After struggling to get more students at Miyagi Do for several days Sam's Daniel's and Robby's luck changes when Cobra Kai's ruthless teaching cause several students to join Miyagi-Do. Overtime she and Robby develop feelings for each other. While Robby at first thinks it is a bad idea for them to date, he soon eventually changes his mind and the two start dating but don't tell Daniel.
When Sam and Robby go to a skating party together they run into Miguel and Tory who are a couple. While she and Miguel wait in line to get more skates Sam asks him why he is dating Tory which offends him and the two have a brief argument. When Tory intentionally knocks her down, Sam, fed up with her behavior, knocks her down, but this angers Miguel and causes both she and Robby to get kicked out despite Miguel and the possible manager being unaware that Tory started it.
When Sam and Robby go to Moon's house for a party she gets revenge on Tory by beating her in a drinking contest, but she gets too drunk which makes her woozy. After finding out from Aisha that Miguel returned Miyagi's medal of honor which Hawk stole a while ago she goes outside to get some air. When Miguel checks up on her she thanks him for returning the badge and the two share a kiss but immediately regret it. However, they are unaware that Tory saw them kiss.
After the cops arrive everyone leaves the party and Sam tells Robby not to take her home because she does not want her parents to see her drunk. So, Robby takes her to Johnny's house and the two spend the night there. The following morning however Daniel arrives at Johnny's door, and both he and Johnny have a brief fight until Sam and Robby stop them Daniel then angrily takes her home.
While Sam is in class on the first day of school she is threatened by Tory over the intercom for kissing Miguel. When She and Tory meet in the hallway, Tory viciously attacks her. Robby attempts to stop the fight, but Miguel, unaware of Robby's intention, attacks Robby. Sam and Tory resume the fight and a huge brawl between Miyagi-Do and Cobra Kai soon breaks out. Sam tries to get Tory to stop fighting but the latter won't listen. Despite struggling for a while, Sam is eventually able to get the upper hand. However, Tory then attacks Sam with her spiked bracelet and manages to injure Sam's wrist with it. Tory is about to stab her with the bracelet but Sam kicks Tory off her and then kicks her down the stairs, winning the fight. However, after Robby kicks Miguel off the railing, resulting in Miguel being badly injured, Sam screams "Robby what did you do?"
Sam is rushed to the hospital. When Daniel and her mom Amanda LaRusso visit her in the hospital, they are appalled at Sam's condition and vow to get Tory expelled from school. Sam starts crying and blaming herself for what happened, saying she is not concerned about that; all she wants is for Miguel to get better. When Daniel returns to the hospital and notices Sam isn't in the room, Amanda tells him the doctor prescribed X-rays for her, believing her injuries more serious than originally thought; possibly a broken rib.
Season 3
Sam is left traumatized by the events of the school fight. Her arm now dons three scars from the impact of Tory Nichols' brass knuckles. Sam's consequence for fighting is a two-week suspension from school. Her parents attempt to protest the suspension but fail to change the principal's mind. She struggles to regain a sense of normalcy after the event but is determined to help Miguel with his surgery. In the meantime, she writes emails to Robby who is serving time in a juvenile detention center for his role in Miguel's accident. As she waits for his replies, Sam organizes a car washing fundraiser in the hopes of contributing to Diaz's medical fund. When the students from Cobra Kai Dojo attack Nathaniel and steal the fundraising money to donate in the name of Cobra Kai, Sam steps up to train the Miyagi-Do Karate students properly and becomes their leader while Daniel is away at Okinawa, Japan to save the dealership which is at hands of collapsing by Tom Cole. Her escapades are cut short by her mother, who is upset over Sam's returns to karate. Sam brushes her mother's concerns off, claiming that she doesn't know what is going on with the rivaling dojos.
Things gradually worsen between the dojos as the Cobra Kai's seek revenge for Miguel's accident. Sam refuses to be bullied and decides to show the Cobra Kai students they aren't doormats. The Miyagi-Do students take a stand during what escalates into an intense soccer game. To retaliate, the Cobra Kai students attack Chris at work, leading the Miyagi-Do students to help their friend and confront Cobra Kai. The confrontation leads to a fight in an abandoned mall shop. Sam suffers a panic attack during the fight as her body shuts down and stops her from defending Chris, who gets beaten up by Doug and Mitch or the rest of the Miyagi-Do students. She is forced to witness Hawk break Demetri's arm while Tory taunts Sam to show herself. Sam blames herself for Demetri having his arm broken and breaks down in her mother's arms at the hospital while waiting with the Miyagi Do's for Demetri's arm checks.
Left with more trauma, Sam decides to quit karate for good and distances herself from everyone. Upon returning from Okinawa, Daniel learns the severity of Sam's trauma. He reconnects with her over a father-daughter fishing trip, though she isn't keen on the idea. She makes it known that she doesn't want to learn karate anymore and just wants her friends to be safe. The trip helps her remember why she loves karate, and Daniel reminds her that only she can help herself when she's down and no one else. He sympathizes with her and assures her that he wants what is best for her. She decides to continue her training and learns how to fight with a bo staff.
When Miguel returns to school now fully recovered, Sam reconnects with him as he slowly realizes how bad things became after his accident. He refuses to train under Kreese or be friends with Cobra Kai students after everything they did to Sam and the others. Her and Miguel deliver a speech together to save the All Valley Karate Tournament when the council deems it "harmful to the community." They convince the city council to hold the tournament, which brings Miguel and Sam closer. They share a moment in the Miyagi-Do dojo that is unfortunately witnessed by a now released Robby. He believes Sam and Miguel were dating the entire time he was in juvie. He also thinks they were having an affair before Miguel's accident. Robby attempts to fight with Miguel until Sam pushes him away. The pair end their relationship, and Robby leaves. In the days that follow, she and Miguel share a kiss and playful banter. They instead work together to unite the students from Eagle Fang Karate and Miyagi-Do Karate. Over the week of Christmas, they convince the two dojos to work together by "parent trapping" them at the LaRusso family home. Their efforts at peace are derailed by a surprise attack from the Cobra Kai dojo.
Personality
Sam is a nice, polite and smart person. Despite hanging out with the popular crowd who are mean and nasty, Sam does not behave like them, showing she has her morals, and is able to maintain her true self. However joining the popular crowd does end their friendship with Aisha Robinson, though they are at the very least on speaking terms.
After noticing her boyfriend Kyler bullying Miguel, Demetri and Eli she dumps Kyler, showing she is against bullying. After dumping Kyler, he ruins her reputation with her friends by making up lies about her, which causes her to lose her friends. Fortunately she develops a relationship with Miguel and even becomes friendly with Robby.
She forms a friendship with Robby. Unfortunately a misunderstanding makes Miguel angry and accidentally hit Sam, causing her to dump him because she was holding Robby's hand. At the All Valley Tournament she seemingly makes up with Aisha after apologizing to her. She ultimately leaves the tournament after Miguel angrily tells her that he will hurt Robby, showing that she cares for Robby and fears Miguel then she knows that she made a mistake for starting the extended rivalry between.
At first she is heartbroken over her relationship with Miguel ending. However, after joining Miyagi-Do Karate where she spends time training and hanging out with Robby whom she develops feelings for, she seems to forget about Miguel.
She tries to fix her friendship with Aisha, but the latter, who is angry at Daniel for insulting Cobra Kai in order to promote Miyagi Do, takes her anger out on her, as well as has already befriended a new Cobra Kai student Tory. Believing that Tory has stolen her mom's wallet, she accuses her, but the latter denies without proofs. The two then get into a brief scuffle. Following this the two are rivals, though it's mostly on Tory's part as she frequently bullies and insults Sam.
She and Robby eventually become a couple. However, she still has feelings for Miguel, and on the night before the first day of school a drunken Sam and Miguel share a kiss. Despite Miguel regretting the kiss as they are both in relationships, Tory, who is dating Miguel sees them kiss, but they are unaware that she caught them. It is the kiss that leads to the school brawl the following day.
After Miguel is rendered unconscious during the school brawl as a result of Robby kicking him off the railing Sam screams "Robby what did you do"? At the hospital Sam tearfully says she hopes Miguel's ok, showing she feels guilty about what happened. Sam even blames herself for the school fight.
Her fight with Tory leaves Sam traumatized to the point that she freezes and has a look of fear on her face when Tory calls out her name, leading to her quitting karate. However, after getting encouragement from Daniel, she re-joins karate and eventually gets over her fear during her fight with Tory, allowing her to gain the upper hand over the latter.
After Miguel is released from the hospital, the two rekindle their friendship. However, her relationship with Robby ends when he attacks Miguel for believing they had a thing going on. Shortly after the break up, she and Miguel rekindle their relationship.
Fighting Style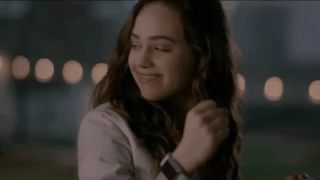 Samantha taking down Miguel
"You don't have to worry about me, Dad. I can handle myself. I'm a LaRusso." ―Samantha LaRusso to Daniel LaRusso [src]
Samantha trained in martial arts with her father as a child, and it is shown in season 1 that she has retained that knowledge when she performs a takedown on Miguel. In season 2 she shown training, sparring, and fighting, and we see that she is a quick, acrobatic, and elusive fighter with sound technique. Thanks to their tandem training she fights extremely well alongside Robby, holding off several Cobra Kai students during the brawl at the mall. She has more trouble in her one on one fight with Tory during the school brawl, however, barely defeating her after a protracted contest.
In season 3 Daniel trains Sam with the bo staff, which gives her a vital edge when Tory attacks her with nunchucks during the Cobra Kai students' invasion of the LaRusso home.
Relationships
Daniel LaRusso
Daniel is Sam's father. The two have a close relationship. She was trained by Daniel is Karate as a kid, until she decided to stop in her older years. In season 1 of Cobra Kai, Sam occasionally gets upset when Daniel is too overprotective. Their interaction significantly increases after Sam joins Miyagi Do in the beginning of season 2. When Sam goes through some rough patches, such as her break up with Miguel and fear of Tory, Daniel comforts her. By the end of season 3, Sam along with the Miyagi Do and Eagle Fang students are training at Miyagi Do, with Daniel and Johnny as her sensei's.
Miguel Diaz
Miguel is Sam's boyfriend. At the first day of school Miguel develops an attraction towards Sam and tries to approach her but is interrupted by Kyler. After defeating her ex boyfriend Kyler and the latter gang when they were mocking Sam during season 1 of Cobra Kai, the two go on a date and become a couple. However, their relationship becomes strained when Sam does not want to bring him to her house to meet her family, due to Miguel being apart of Cobra Kai. Things get more strained when Sam does not respond to his texts. Unbeknownst to Miguel, Sam's mother took her phone away, which is why she is not responding. When Sam arrives to a party with Robby, Miguel wrongly assuming they are together, confronts Sam and attacks Robby, but accidentally hurting Sam in the progress, leading to her dumping him.
In season 2, the two don't have much interaction. Sam is upset over their break up in the beginning of the season, and wants nothing to do with him due to his actions. Sam however, would move on from Miguel and date Robby. Sam however, disapproves Miguel dating Tory because of their bad blood, and even confronts him on that, making Miguel upset. On the night before the first day of school, a drunk Sam thanks Miguel for returning Mr. Miyagi's badge of honor, and the two share a kiss, but immediately regret it due to them already being in relationships, but are unaware that Tory saw them. After Miguel is kicked off the railing by Robby the following day, Sam is horrified. At the hospital she tearfully says that she hopes Miguel is ok.
Shortly after waking up from his coma in season 3, Sam visits him and gives him a get well card, and the two apologize to each other for the whole situation. She organizes a charity for Miguel's surgery with Miyagi do. In the news, she makes a speech about charity and says Miguel is lovely, it is possible Miguel watched the news from the TV after waking up from his coma. After Miguel is able to walk again, he returns to school and rekindles his friendship with Sam. After finding out that the All Valley Tournament is cancelled, the both of them had a speech about karate and defending other people. Back at Miyagi Do, Miguel and Sam celebrated and also did karate. They almost kissed until Robby caught them. Robby tried to hit Miguel again until she defends and fights him back. She told him not to hit Miguel and to get his act together. After he refuses to not kick him, he said that her and Miguel deserve each other. Over time, they rekindle their former romantic feelings for each other and end up kissing at one point. By the end of the season, Sam is training with Miguel and the other Eagle Fang and Miyagi Do students at Miyagi Do.
Robby Keene
Robby is Sam's ex-boyfriend. They meet each other at the LaRusso's house during season 1 of Cobra Kai when Robby is waiting for his karate lesson with Daniel LaRusso, Robby quickly develops a crush on Sam but she's oblivious to this. Later in the season, Sam and Robby go to a party together. When they arrive at the party, they're seen holding hands together, but this angers her current boyfriend Miguel, which cultivates in Miguel accidently hitting Sam when attempting to attack Robby, causing Sam to dump him.
In season 2, Robby moves in to Sam's house after his mom takes off with a guy. This along with both being in Miyagi Do, causes them to have more interactions. They develop feelings for each other and eventually become a couple. However, on the night before the first day of school, a drunk Sam kisses Miguel, without Robby's knowledge. When Tory exposes the kiss the following day at school, Robby is shocked. Despite learning the fact that she kissed Miguel, Robby is still loyal and protective of Sam. At the end of the school fight, Sam sees that Robby kicked Miguel off the school railing which makes Miguel unconscious. Sam asks Robby, "what did you do."
When Sam is interviewed about the fight in the beginning of season 3, she defends Robby by saying that Miguel being kicked off the railing was an accident. While Robby is in Sylmar Juvenile Corrections (SJDC) serving time for kicking Miguel off the railing, Sam emails him several times to check up on him, but eventually stops after he doesn't respond. She however, is unaware that Robby isn't writing due to him constantly being harassed by Shawn and his gang. After eventually being released from juvie, he goes to Sam's house, but sees her sparring with Miguel and in a compromising position, and then accuses her of cheating. Sam defends herself, but Robby doesn't believe her. When Miguel defends her, Robby tries to attack him, but is stopped by Sam. Robby then ends their relationship and walks out, saddening Sam.
Tory Nichols
Tory is Sam's biggest rival. It has been shown that the two girls are quite opposite, Sam comes from a wealthy home and has more of girly girl sense of fashion, while Tory's family lives in a poor lifestyle and is some what of tomboy, as well as both have different view of philosophy. Tory has a strong hatred for Sam, for having privilege life and as well for her being the ex-girlfriend of Miguel, this has lead her to bully and insult Sam.
They first met at the beach club. Were Tory sees Sam for being uptight while Sam views her as a bad influence. When Sam accuse Tory (who has stolen bottle of vodka and claims that she would steal the silverware) for stealing her mom's wallet, Tory gets furious at this accusation and calls her a "bitch", Sam tries to approach her however she accidentally pushes Sam into a table of food, making Sam mad and developing a hatred for one other. They met again at the roller skating rink, Sam and Robby realizes that Tory is dating Miguel, making her disappointed. Tory catches Sam and Miguel talking and eventually shoves Sam to the ground out of jealousy, fed up with her actions she shoves her back causing her and Robby kicked out of the rink as well of giving Sam a smirk. Meanwhile, at Moon's party, they are having a drinking contest making Sam win. At night, she thanks Miguel for returning the medal until they share a drunken kiss. Tory however witness this and stares angrily towards the pair. During the first day of school, Tory grabs the intercom from a student and threats Sam on the PA system. She reveals to everyone that she kissed Miguel while they face off. She attacks Sam through the hallway all the way to the stairs. When Sam manages to have the upper hand, Tory attempt to fight more viciously by wrapping her spiked bracelet to her knuckles and manages to rip her arm. While both on the ground, Tory attempts to tear Sam's face, however Sam quickly blocks it and kicks her down the stairs making Sam win the fight more honourably.
In season 3, The school fight and the scars on her arm has left Sam to have PTSD and fear Tory. In the arcade, while Cobra Kai and Miyagi Do are fighting each other, Sam is left frozen when Tory says her name and calls out "where are you bitch?!", remembering their last fight at the school, Sam is left having a panic attack and hides from Tory when she has PTSD visions from the school fight which makes her unable to fight back and is forced to witness Hawk and Tory break Demetri's arm. In her nightmare, after Sam finishes her warm-up, she goes to the back door of Miyagi Do, until she sees Tory appear out of nowhere. Tory kicks her in the face, and Sam has flashbacks of the school fight. She grabs Sam's hair and places her face in the pond to drown her in the nightmare. After being drowned in the pond, she realises that it was all a dream. Back at the LaRusso's, Eagle Fang and Miyagi Do are thinking of working together and to join forces to fight back against Cobra Kai in a bigger team until Cobra Kai breaks in the LaRusso's home. Tory beats up a Miyagi-Do student and she sees Sam and chases after her into the Miyagi home Dojo. Tory finally corners Sam in the LaRusso home dojo, however Sam is too frightened at first to fight against Tory. Sam remembers a quote from her father telling her she can get up when she is down. Tory says that she will need to make her own fun. Tory grabs a pair of nunchaku and attempts to attack Sam only to smash a picture of Mr. Miyagi. Sam then gets up and grabs a boa staff, and overcomes her fear. Sam and Tory have a fight and Sam lands a few hits on Tory with the boa staff. Sam eventually disarms and corners Tory, the fight is interrupted when the redeemed Hawk, Miguel and Demetri arrive and break up the fight. Hawk tells Tory that the fight is over, Tory refuses to believe the fight is over and she approaches Hawk and Miguel where she calls the two 'traitors' and threatens Hawk to watch his back but Demetri defends them and says they have friends watching it for them. Tory then leaves the home dojo.
Aisha Robinson
Aisha is Sam's former best friend whom she has a strained relationship with. They became friends before Cobra Kai, but at some point before the series, Samantha became friends with the popular crowd, who often bullied Aisha. While Sam's actions strained their friendship, they were still on friendly and speaking terms.
During the early parts of season 1, Aisha and Sam are on speaking and good terms, despite Sam's association with the rude popular crowd. Despite disapproving the crowd, most notably Yasmine bullying Aisha, Sam never stands up for Aisha, possibly out of peer pressure. Halfway into the season when Sam loses her friends and becomes an outcast, Aisha shows no sympathy and is cold to her, possibly because she feels that Samantha is getting what she deserves. However, she seemingly forgives Samantha after she apologizes to her and tells her her revenge against Yasmine was great. The two then laugh about Aisha's revenge against Yasmine. Aisha encourages her to get back into karate.
In season 2, Sam wants to rekindle her friendship with Aisha, but the latter still holds somewhat of a grudge against her. When Sam accuses Tory of stealing her mom's wallet, the two get into a brief fight. Aisha is dismayed at Sam for making an accusation without proof. During a party at Moon's house, Sam becomes even more irritated at Aisha because Hawk and a group of Cobra Kai students vandalized the Miyagi-Do, even though Aisha told her she had nothing to do with the incident. During her talk with Aisha, Sam tells Aisha that her victory in the drinking battle between her and Tory should be considered as payback, showing that Sam still will not heal her strained relationship with Aisha. She tells Sam that Miguel returned Mr. Miyagi's Medal of Honor which shocks her. When Sam appears to be dizzy, Aisha shows concern for her, showing she still cares for her. The following morning she messages Sam, asking her if she is alright, further indicating that she still cares about her.
In season 3, Sam and Aisha do not interact at all, becuase Aisha's parents had decided to transfer her to a private school after the West Valley fight. This prevents them from communicating.
Demetri
Demetri's is Sam's friend. They first meet in Season 1 in Science class when Miguel took Sam as her temporarily lab partner, but Sam just walked by Demetri and pushed him aside. While it is unsure whether or not Sam did that intentionally, we can assume that her friendship with Demetri was very small, if anything at all.
In season 2 when Demetri decides to join in Miyagi Do becoming the its third student in the new generation. Sam, along with Robby, saved Demetri from getting attacked from Hawk and the rest of the Cobra Kai students at the mall. Throughout season 2, the majority of their interactions occur when they are training.
In season 3, they have more interactions. When Hawk destroys Demetri's science project, she hops to Demetri's defense and stands up to Hawk. She encourages Demetri and some of the other Miyagi Do's to get aggressive with the Cobra Kai's during a school soccer game, but this gets them detention. After Nathaniel is beaten up by Cobra Kai, Sam re-opens Miyagi Do, with Demetri rejoining. When Hawk is on the verge of breaking Demetri's arm during a fight at the arcade, Sam doesn't attempt to stop him, as she freezes out of fear when Tory calls out her name. After Hawk breaks Demetri's arm, Sam is shown to be very guilty. Sam's guilt over not helping Demetri haunts her for a while. In the finale, when Sam tries to get Miyagi Do and Eagle Fang to work together, Demetri along with most of the group disagrees, but ultimately everyone comes to an agreement, leading to the dojos merging.
Amanda LaRusso
Amanda is Sam's mother. Sam has a close relationship with Amanda, although she does accuse her of being too strict after she gets grounded in season 1. At the end of Season 2, she was present when Sam was being treated for the bruises and scars from Tory's knuckleduster in the hospital, she even vowed to get Tory expelled. In Season 3, Amanda looks after Sam and tries her best to help her through her PTSD while Daniel was busy dealing with the problems. Amanda bans Sam for doing karate and she attempts to appeal Sam's two week suspension in Aftermath but the school board decline the appeal which infuriates Amanda. Amanda then finds out about the physical contact soccer game between Cobra Kai and Miyagi-Do and she berates Sam for doing karate without permission and also saying she could've got suspended again but Sam tells her that she doesn't know what is going on with the rivalling dojo's. In the hospital, Amanda consoles Sam in the hospital when Sam was crying about Cobra Kai breaking Demetri's arm and her being unable to save Demetri. Amanda then allows Sam to continue with karate as she better understands that John Kreese is responsible for fanning the flames of the rivalry between the two dojos and what Sam is experiencing.
Mr. Miyagi
Mr. Miyagi was the grandfather figure of Sam. Sam had a close relationship with Mr. Miyagi and Sam was the granddaughter figure that Mr. Miyagi never had. Mr. Miyagi was present in Sam's life often. Mr. Miyagi explained in his final love letter to Yukie in November 2011 a few days before he passed away that he enjoyed having a granddaughter in Samantha, meaning they had a very close relationship. Unfortunately, when Sam was just nine years old on November 15, 2011, Mr. Miyagi passed away.
Chris
Chris and Sam first came across each other when Hawk and his gang (including Chris) were about to jump Demetri at the mall. After Chris leaves Cobra Kai, he and a few other students visit Miyagi-Do and explain that they want to feed off what's being taught there instead. Sam instantly recognises Chris and isn't pleased to see him and neither are Robby and Demetri. After the past is put behind Sam, Chris and Demetri they all become close friends. During Season 3, Cobra Kai return to harass Chris at work and once this happens Chris contacts Sam and she goes out of her way to help her friend and get payback on Cobra Kai. Chris is also invited to Sam's house to merge Eagle Fang and Miyagi-Do and take down Cobra Kai.
Yasmine
Wanting to become popular, Sam befriended Yasmine shortly before the events of Cobra Kai. Sam doesn't approve of the way Yasmine treats Aisha, but in the first half of season 1 she fails to speak up. However, after Kyler lies that Sam has been expressing that she's better than Yasmine and Moon, the two shun Sam. After their friendship ends, an angry Sam hints that Yasmine is bulimic. In season 3 however, they appear to be on civil terms.
Moon is Sam's close friend. They became friends most likely before Cobra Kai. In season 1, they are friends until Moon and Yasmine learn from Kyler that Sam thinks she's better than them (Sam never said that. Kyler lied.), causing them to shun her. However, Sam and Moon are back to being friends in season 2, possibly because Moon is a better person. Their friendship continues throughout season 2 and 3. The two however don't have much interaction.
Kyler
Kyler is Sam's ex-boyfriend and current enemy. The two begin dating in season 1 of Cobra Kai. While Sam likes him, Kyler only has lustful desires for her, which Sam is unaware of. She doesn't know Kyler is a bad influential guy.
However, after noticing Kyler bullying Miguel, Demetri and Eli, an angry Sam ends her relationship with him. Angry at Sam for dumping him, he ruins her friendship with the popular crowd by spreading lies about her. When Sam confronts Kyler, he is rude to her. This prompts Miguel to fight Kyler and his friends in the lunchroom.
In season 3, they have no interactions. During the fight at Sam's house, both of them are on opposing sides, but neither cross paths with the other.
Hawk is Sam's friend and former enemy. While they don't interact in season 1, Sam laughs when Yasmine mocks Eli's (later Hawk) lip and sweatshirt. Also, Sam witnesses Kyler bullying Eli and his friends in the school library, she feels bad for them because they were getting bullied and that causes her to break up with Kyler as a result.
In season 2, they first encounter each other when Hawk and some of his Cobra Kai friends are bullying Demetri. Sam and Robby defend Demetri and Sam tells Hawk and the Cobra Kai's to back off. When Hawk refuses, a fight breaks out, with Sam and Robby defeating Hawk and the other Cobra Kai's. They have no interaction after that until the school brawl in the last episode of season two. As Sam is trying to back down from Tory attacking her, Hawk shoves her back in the fight and tells her to "Get back in there!".
In season 3, their rivalry continues. In the Hospital, Sam visits Miguel before Hawk arrives. They see each other but they don't want to say anything until Sam gets out of the room and Hawk blames her and her boyfriend for the fight and Miguel's injury. In school, Hawk ruins Demetri's science project and confronts him about this, Sam sees Demetri and Hawk arguing and she sees as an opportunity to talk to him. Hawk accuses her to "sleep around with someone new and break his heart" and that causes to push him, then Counsellor Blatt shows up and tells what's going on. Hawk outsmart both Sam and Demetri this causes Sam to go more angry and Counsellor Blatt gives her warning. In soccer game, Sam assaults Hawk and his friends this causes them to go to the principal's office and Hawk outsmart them again to get them detention. During the arcade fight, Sam and Hawk briefly fight, with Sam gaining the upper hand. Sam get shocked to see Hawk breaks Demetri's arm and makes her cry. However, it can be assumed that their rivalry ends in the finale, when Hawk defects from Cobra Kai and sides with Miyagi Do and Eagle Fang.
Johnny Lawrence
Johnny was Sam's former enemy and now a sensei of her dojo. When Sam and her two friends crash Johnny's old Pontiac Firebird, Johnny is angry at her and her friends. Johnny holds some sort of anger against Sam for the hit and run incident and also the fact that her friends are bullying Miguel constantly. He even reminds Daniel about the type of friends Sam makes back in Season 1. In Season 2 and 3 they don't have interactions, but by the end of season 3, Johnny becomes the co sensei of the merged Eagle Fang Karate and Miyagi Do, alongside Daniel, making Sam his student.
Anthony LaRusso
Anthony is Sam's younger brother. Sam finds Anthony annoying on occasions. The two seem to have a typical sibling rival. two however don't have much interaction on camera.
Counselor Blatt
Counselor Blatt is Sam's principal at West Valley High School, as well as enemy in season 3 (One sided, on Sam's side). During season 3, Sam and the Miyagi Do's get in trouble a few times, due to Blatt believing that they are instigating the fights with the Cobra Kai students, even though it is really the other way around. When the Miyagi Do's receive detention due to Blatt wrongly assuming the Miyagi Do's are the sole reason for the soccer fight with the Cobra Kai's, Sam reacts negatively.
Источник