Nightcrawler (Ночной Змей)
Настоящее имя: Курт Вагнер
Цвет Глаз: Ярко желтый, без зрачков
Цвет Волос: Индиго (темно-синий)
Принадлежность к Группам:
Люди Х, Экскалибур, Люди Н
Место Рождения: Бавария, Германия
Семейное положение: Не женат
Курт Вагнер был похож на демона с самого рождения. Его необыкновенные физические данные – волосы цвета индиго, хвост, заостренные уши, клыкообразные зубы, по три пальца на руках и по два на ногах – заставили его мать Мистик бросить своего новорожденного сына. Запуганная сельскими жителями, она сбросила Курта в водопад для спасения собственной жизни. Курта подобрали и выростили в бродячем цирке, где его научили ценить свои способности мутанта, среди которых была способность телепортироваться с места на место. Вступив в команду Людей-Х, Ночной Змей сменил свой костюм, ушел из старой команды и даже изменил жизненные взгляды: он посвятил себя высшему призванию, став священником. Внешне Ночной Змей выглядит как демон с синей кожей, но этот на первый взгляд хулиган является одним из ангелов-хранителей мутантов.
ИСТОРИЯ
Курт Вагнер был похож на демона с самого рождения. Его необыкновенные физические данные – волосы цвета индиго, хвост, заостренные уши, клыкообразные зубы, по три пальца на руках и по два на ногах – заставили его мать Mystique бросить своего новорожденного сына. Запуганная сельскими жителями, она сбросила Курта в водопад для спасения собственной жизни.
Курта нашла и воспитала цыганка, и детство его прошло в бродячем цирке. Он вырос в окружении самых разных людей, не имевших не каких предубеждений по отношения к так называемым «уродам». Именно там он осознал, что его особые способности и уникальная внешность были талантами, которые нужно прославлять. Задолго до того как у него появилась способность телепортироваться, Курт демонстрировал свою потрясающую природную ловкость. В юности он уже стал знаменитым акробатом и воздушным актером. Аудитория принимала его за нормального человека в костюме демона, и под его синей кожей видела талантливого исполнителя.
Какое-то время Курт наслаждался счастьем и миром. Но вскоре техасский миллионер решил показать молодого мутанта в своем «Шоу уродов», и выкупил весь баварский цирк. Курту пришлось бросить свой райский уголок и бежать. Он направился в город Винзельдорф в Германии, где местные жители вскоре объявили его виновным в череде убийств и решили казнить его. Он был уже на волоске от смерти, когда все горожане вдруг внезапно были парализованы Профессором Икс, пришедшего с целью вербовки Курта в команду Людей-Икс.
Люди ненавидели и боялись его больше других мутантов за его странные способности и пугающую внешность, в то время как этот синекожий хулиган является ангелом хранителем всех мутантов, борясь с людьми-фанатиками и генными террористами. Другие Люди-Икс могут свободно появляться в толпе, так как выглядят как обычные люди; Курт же навсегда отмечен меткой Человека-Икс.
СИЛЫ И СПОСОБНОСТИ
— Телепортация
— Способность прилипать к стенкам
— Мастерски управляется своим длинным хвостом
Источник
Найткраулер / Ночной Змей: Краткая история персонажа
Найткраулер или же Ночной Змей (Nightcrawler) изначально должен был стать персонажем комиксов DC. По первоначальной идее это был демон, проваливший миссию, ради которой его отправили из Ада на Землю, и решивший остаться на Земле. Редакторы DC отвергли идею, и создатель Найткраулера обратился к Marvel, где его приняли. Правда, демон превратился в немца-мутанта, но в целом практически ничего не изменилось.
Зовут Найткраулера Курт Вагнер, и он может похвастать весьма нескучными родителями. Мать Найткраулера – мутантша Мистик, а его отец – могущественный демон Азазель. Воспитывала Курта цыганка Маргали Зардос, колдунья и слуга Азазеля. Она подрабатывала гадалкой в цирке, куда и Курт попал. Найткраулер в цирке был акробатом, и люди были уверены, что это обычный человек в необычном костюме.
Главная способность Найткраулера – телепортация на небольшие расстояния. Чем больше расстояние, тем сложнее ему телепортироваться. Делает он это, срезая путь через ад, поэтому после его «прыжка» в воздухе остаётся дым и запах серы. Телепортация утомляет не только Курта, но и его «пассажиров» — несколькими быстрыми скачками на пару метров Найткраулер может отправить человека, с которым он «прыгал», в нокаут. Помимо этого он потрясающе ловок, может ползать по стенам, умеет фехтовать с одинаковой ловкостью обеими руками и хвостом, и неплохо видит в темноте. В тени он может сливаться с тенями.
Несколько выпусков комиксов про Людей-Икс в целом и Найткраулера в частности связаны с Бамфами (Bamfs) — мелкими шаловливыми бесами, похожими на Найткраулера. Бамфы, как выяснилось, появились на свет в глубинах ада, а их родителями стали гигантская адская личинка и демон-перевёртыш. Новорождённых Бамфов, выброшенных на одну из адских дорог, нашёл Азазель, отец Курта, и дав малышам своей крови, он завербовал их в свою армию, чтобы в обозримом будущем вторгнуться в рай и забрать от туда как можно больше душ. А Найткраулер Бамфов перевербовал.
Некоторое время Курт провёл, возглавляя созданную Капитаном Британией команду «Экскалибур». Они сражались с наёмниками из организации «Технет» – и в одном из выпусков Найткраулер возглавил «Технет», переименовав команду в «Люди-Н», в честь себя.
Во время странствований Росомахи, Колосса и Ночного Змея по Европе, Логан с Куртом затеяли «войну приколов». Так, Росомаха поигрался с настройками маскировочного голопроектора Курта – и Курт, включив режим маскировки, стал похож не на обычного парня, а на Анджелину Джоли. После чего фото «Джоли» с Колоссом появилось в жёлтой прессе. Настоящая Анджелина от комментариев воздержалась.
Ночной Змей погиб в сюжете X-Men: The Second Coming, во время сражения с киборгом Бастионом. Бастион почувствовал, куда переместится Найткраулер, и протянул свою руку. Когда Курт телепортировался, рука оказалась у него внутри, что привело к мучительной смерти. Впрочем, он вернулся к жизни с помощью Бамфов и успел спасти Рай от вторжения своего отца.
Ночной Змей не особо ладил с родителями. Ещё бы, убеждённый католик и в целом «хороший парень» против наёмницы без принципов и демона (хотя Азазель скорее мутант с демоническим обликом… и вообще по одной версии все демоны, как и ангелы, являются мутантами, но это совсем другая история). Кстати, по первоначальной версии отцом Курта должна была стать Мистик. Будучи бисексуалкой, она должна была превратиться в мужчину и подарить ребёнка своей избраннице. Редакторы Marvel отвергли такой вариант, как слишком странный. Конечно, интимная связь с демоном-мутантом реалистичнее будет.
Найткраулер появился в нескольких сериях мультсериала «Люди-Икс» 90-х годов, стал одним из основных персонажей мультсериала «Люди-Икс: Эволюция» и неоднократно засветился в мультсериале «Росомаха и Люди-Икс». Он является одним из центральных персонажей в фильмах «Люди-Икс 2» и «Люди-Икс: Апокалипсис», также он должен был появиться в «Днях Минувшего Будущего», но от этой идеи отказались, из-за перенасыщения Людей-Икс.
Источник
Kurt Wagner (Earth-616)
Nightcrawler
Real Name
Current Alias
Aliases
Editorial Names
Relatives
Raven Darkholme (mother); [1]
Baron Christian Wagner (step-father, deceased);
Margali Szardos (foster mother); [1]
Gloria Brickman (maternal half-sister);
Raze Darkholme (maternal half-brother);
Charles Xavier II (maternal half-brother);
Graydon Creed (maternal half-brother, deceased);
Nils Styger (paternal half-brother);
Kiwi Black (paternal half-brother);
Unnamed half-siblings (deceased);
Jimaine Szardos (foster sister); [1]
Stephan Szardos (foster brother, deceased); [1]
Anna Marie LeBeau (unofficial foster sister);
Tenia Jean (daughter, deceased);
Demon Bamfs, Chuckles, Pickles («brothers» via D.N.A transfer);
Nightcrawler's Symbiote (former symbiote)
Affiliation
Base of Operations
Status
Identity
Citizenship
Marital Status
Occupation
Education
Characteristics
Gender
Height
Weight
Eyes
Hair
Unusual Features
Origin
Origin
Universe
Place of Birth
Creators
Contents
History
Early Years
In the form of a German noblewoman, the shape-shifting mutant Mystique married Baron Christian Wagner. Meanwhile, Mystique had an affair with the mysterious Azazel from La Isla des Demonas and became pregnant with their child. Azazel told Mystique to raise their child as if it were the Count's. A heartbroken Raven agreed and, while Christian did become suspicious as to the baby's paternity, his sudden «accidental» death ensured no one else heard his suspicions. The baby was born visibly mutated with blue fur all over, pointed ears, iridescent eyes, and a prehensile tail. Due to the shock and the strain of the boy's difficult delivery, Mystique lost concentration and accidentally revealed her true form. Word spread of her and the baby's condition and mother and son were chased by a torch-wielding angry mob. Mystique passed out and left young Kurt Wagner floating down a river during her escape. [1]
Circus Life
Miraculously, the baby survived and was saved by Margali Szardos, a sorceress and Romani queen, who became a fortuneteller at Herr Getmann's Traveling Menagerie. Margali took the baby back with her to the circus. [1] Wagner was never legally adopted by anyone but was raised within the circus, mostly with people who had no prejudices against «freaks» save for the ringmaster, Herr Max Getmann. [1] Margali acted as Wagner's unofficial foster mother. [1] Wagner grew up in Max Getmann's Circus and his two closest friends were his «adopted» brother and sister, Margali's natural children Stephan and Jimaine Szardos. Later, Kurt and Stephan forged a true friendship as they grew older, and Stephan knew that his magical heritage might lure him to evil one day. So, Stephan had Kurt promise him a blood-oath, that if he ever killed without reason, Kurt would kill him as well. Long before his teleportation power emerged, Wagner had tremendous natural agility and by his adolescence he had become the circus' star acrobat and aerial artist. [1] Circus audiences assumed that he was a normal-looking human being wearing a demon-like costume.
As he got older, Kurt's abilities drew less and less of a crowd until one day, Herr Getmann could no longer afford to keep him sedated between acts and decided to sell him. Fearing the worst, Margali worked with Armen Freilich to free Kurt. As he fled, he accidentally knocked over a torch, igniting the circus. Getmann and his men chased Kurt through the forest and were about to shoot him in the face when he teleported for the first time. Astonished and pleased with his escape, Kurt wearily made his way to the nearby Father Wagner's church. Two days later, he was discovered and welcomed and Kurt happily found a home trading shelter for labor. One evening, Armen burst in the door, apparently being chased by Getmann and his goons for escaping. Father Wagner tried to stop them from taking the boys, but the men proved too strong and set the church on fire during the brawl. Kurt ported Armen to a nearby farm before going back and beating on Getmann. Just as he was about to kill Getmann, Father Wagner reminded Kurt of his humanity. With the tides turned, Getmann and his men took aim to kill both Kurt and the Father but were frozen. Professor Charles Xavier had arrived and taken control of the angry mob's minds, programming them all to remember Kurt dying in the fire.
Years later, the Texas millionaire Arnos Jardine, who ran a large circus based in Florida, heard of the circus Wagner worked for and bought it. Jardine intended to move its best acts into his American circus. However, he demanded that Wagner be placed in the circus' freak show. Appalled, Wagner quit and made his way towards Winzeldorf, Germany, where Stephan was. Kurt discovered that Stephan had gone mad and had brutally slain several children. Two nights after leaving the circus, Wagner found Stephan and fought him, hoping to stop his rampage. In the course of the struggle, Wagner unintentionally broke Stephan's neck. Then the villagers of Winzeldorf, who assumed him to be a demon who was responsible for the child killings, discovered Wagner. They were about to kill him, when they were all psionically paralyzed by Professor Xavier, who had come to recruit Wagner into the X-Men. [5] Wagner agreed to join the group, but before they left for America, he and Prof. Xavier went to the Bavarian circus so that Wagner could explain to Margali about Stephan's death. However, Margali was not there and she held Wagner responsible for murdering Stephan.
Wagner helped Prof. Xavier and Cyclops rescue the original X-Men from Krakoa. [5] After most of the original team left for a time, Wagner, along with fellow new recruits Storm, Colossus, Wolverine, Banshee, and Thunderbird, stayed at the Xavier's School for Gifted Youngsters as members of the new X-Men. The second group of X-Men were mostly adults and required no tutoring from Professor X, but trained in the use of their powers, in the Danger Room. [6]
Kurt met Amanda Sefton and the two began to date. Investigating the murder of an old friend, Eric Hoffman, Kurt briefly battled Spider-Man and The Punisher until the real killer, Jigsaw, was revealed and the trio defeated him. [7]
While meeting Amanda at an airport, Kurt recognized the plane of Arcade and overheard that he had been contracted, by Arnos, to kill Spider-Man and refused. After arriving at Arnos' circus, Kurt impersonated Spider-Man, to draw-out the new assassin, and the duo battled Cutthroat. [8]
On Kurt's twenty-first birthday, Jimaine transported Kurt's soul to a simulacrum of Dante's hell. There, he faced Margali Szardos, who held Kurt responsible for the death of Stephan. When Nightcrawler convinced Margali that Stephan had gone insane, she forgave Kurt and departed. Jimaine revealed that she had been at Nightcrawler's side, magically disguised for months as Amanda Sefton, Kurt's girlfriend. [9]
Kurt then accompanied Wolverine to Ottawa, Canada, where he learned Wolverine's real name «Logan», to make things right with Alpha Flight and Department H and together with Alpha Flight they battled Wendigo. [10] Then, The X-Men stopped the attempted assassination of Senator Robert Kelly by the Brotherhood of Evil Mutants lead by Mystique. When Nightcrawler encountered Mystique for the first time in his adult life, he was shocked to discover how similar in appearance they were and that she knew his real name. Mystique only told him to ask his foster mother, Margali Szardos, about it, leaving Nightcrawler confused. [11]
Kurt began a close relationship with Wolverine and Colossus, even taking a dare from Wolverine to walk down the main street of Salem Center undisguised, in his natural shape. When Miss Locke kidnapped Amanda, Kurt traveled to Latveria where the X-Men defeated a Doombot in the image of Dr. Doom to rescue Arcade. [12]
After rescuing Rachel Summers from Selene, Kurt battled the Dire Wraiths with Forge and asked Amanda to aid them as well. [13]
Kurt took over leadership of the X-Men after Storm had seemingly lost her powers forever. Having recounted an adventure to his teammate, Kitty Pryde (Shadowcat), Kitty, excited by the story, attempted to create a simulacrum of the Well at the Center of Time inside the X-Men's Danger Room (based on Kurt's description). Instead of crafting a simulated hologram of the Well however, Kitty inadvertently opened a doorway into the Well itself. Kitty's pet dragon, Lockheed, flew towards it to investigate, when an alien, green tentacle reached out from beyond and dragged him inside of the vortex. Nightcrawler dove in after to save Lockheed and found himself instantly transported to a bizarre, alien world. Nightcrawler and Lockheed shared several adventures on various worlds, meeting Long John McGurk, Boggies, Jinjav Sabree, and battled the sorcerer Shagreen. At the close of each encounter, he found himself drawn back into a spiraling vortex, only to be literally spat out into a new foreign land. After a great deal of trial and error, Nightcrawler finally succeeded in navigating through the Well and returning home. [14]
When both Cyclops and Storm returned to the team, Kurt was more than willing to step down and let them sort out leadership of the X-Men themselves. [15] While the X-Men later battled the Beyonder again, Kurt was left behind and began to question his faith in religion. [16] Before the team returned, Kurt again battled Arcade in Murderworld, this time, to save Judith Rassendyll. [17]
After battling Nimrod with the Hellfire Club as allies, Nightcrawler was gravely injured and was lost after he teleported. [18] After being rescued by Colossus, Shadowcat, and Magik, Kurt found that he could not teleport anymore. [19] Later Kurt's abilities returned, but it became more strenuous to teleport [20] and the X-Men were turned to X-Babies by Mojo, when they battled the New Mutants, until they were broken of their brainwashing and defeated the spineless one, Mojo. [21] After, Kurt faced the Marauders in this weakened state, where he overexerted himself into a coma. Kurt was sent to recover on Muir Island and when he awoke from his coma, Shadowcat informed Kurt of the X-Men's apparent deaths during the time he was out. [22]
Excalibur
After having the same continuous dream, Nightcrawler and Kitty realized that Rachel might have been trying to telepathically reach them. After being attacked by Gatecrasher and the Technet, who were hired by Saturnyne to eliminate Phoenix, Shadowcat and Meggan Puceanu were captured and Kurt went to Captain Britain, who was in a drunken state after the loss of his sister, Psylocke. After leaving Captain Britain, Kurt tracked Rachel to London, where the Technets were fighting the Warwolves over Rachel. The combined efforts of Kurt, Shadowcat, Phoenix, Meggan, and Captain Britain resulted in the defeat of the Technet and the Warwolves. At the urging of Rachel to continue Professor Xavier's dream, Nightcrawler and Shadowcat became founding members of the British-based team Excalibur. [23] After inspecting their new headquarters, at the Braddock Lighthouse, Kurt briefly witnessed Queen Ai'Sha of another reality, but, when he returned with Meggan, they scene had vanished. Kurt found himself attracted to Meggan, but unable to act, due to her relationship as Captain Britain's girlfriend. Later, Kurt attempted to rescue Shadowcat, who was posing as Rachel, from her plan to find the remaining Warwolves, but Kitty was captured. After saving people from a subway train, Kurt followed a mysterious police officer to the Warwolves' hideout and Excalibur rescued Shadowcat, who's intangibility saved her life, then placed the Warwolves on display at the zoo. [24]
After battling the Juggernaut and a group of escaped prisoners, the team addressed Captain Britain's drinking problems, while moving into their new headquarters, Captain Britain's Braddock Lighthouse. Following a trail of forfeit money, Excalibur traveled to Murderworld and battled the Crazy Gang, to rescue Captain Britain's ex girlfriend, Courtney Ross. While battling the Crazy Gang, Excalibur's bodies were switched with members of the Crazy Gang, with Kurt trading places with Jester. After Kitty entered a virus into the Murderworld computers and sent Arcade into Murderworld, Courtney restored everyone to their respectful bodies. Kurt later accompanied Brian Braddock to the The Flying Finish, where he voiced his concern of the Captain seeing Courtney while dating Meggan. [25] Following Rachel, who sensed her infant brother's telepathic distress, Excalibur traveled to the Empire State Building and battled demons, where Meggan was brought under the demonic influence of the demon, N'astirh, and became the Goblin Princess. While battling the Goblin Princess, Kurt also rescued Rachel from the marriage to the demon, Crotus, while she had been transformed into a mannequin. Reuniting with Kitty, Shadowcat had acquired Illyana Rasputin's Soulsword and eldritch armor and Kitty returned Meggan to normal. [26]
After the demonic invasion, Kurt left to get the X-Men's old stratojet. Kurt simply teleported into the Skunk Works, a part of the Lockheed Aircraft Corporation, and started-up the SR-71 Blackbird. After briefly returning to the School for Gifted Youngsters, Excalibur returned home to rescue W.H.O. from the Lightning Force, alternate reality versions of themselves and negotiated the return of Dr. Moira Mactaggert. After returning to the exchange of Dr. MacTaggert and the Highland Flyer crew with the Lightning Force Reichsrail Train, Reichsminister MacTaggart threw a nuclear grenade and Widget teleported Excalibur and Alistaire Stuart into another dimension. [27]
Wagner finally learned that his mother is Mystique. [28] He took charge of the Technet, renaming them his 'N-Men', [29] and he became romantically involved with his teammate Cerise before she left to stand trial for the Shi'ar. Kurt eventually became team leader and moved the team to the Muir Island Research Center where he briefly reunited with Amanda Sefton, who had taken the codename Daytripper, and his former X-Men teammate Colossus joined the team as well. Following the disbanding of Excalibur, Kurt returned to the United States along with Shadowcat and Colossus to rejoin the X-Men. [30]
When Kurt faced Astra, the creator of the Magneto clone Joseph, she stunned him with the revelation that she had some part in his birth or some past connection to Mystique. Astra escaped and Nightcrawler was left wondering. [31]
Priesthood
Nightcrawler ended up taking a few leaves of absence from the team, one to enroll in a seminary and become a priest, [32] and the other to mourn for Colossus. [citation needed] Kurt returned to the team and eventually gave up on the priesthood. [33]
Drama Teacher
Azazel claimed to be Wagner's true father, spawning a number of mutants with dimensional powers to help him in his mad quest. It was unclear if Kurt or any of the others believed Azazel's claim. Kurt was a part of Storm's X-Men squad. When not on missions, he taught Drama to students of the reopened Xavier Institute. [34]
Divided We Stand
Kurt traveled to Russia along with Wolverine and Colossus where they visited the cemetery where Peter's family was buried. Afterwards they went to a local bar, where they discussed the recent loss of Kitty Pryde and the destruction of the X-Men. A fight occurred in the bar, during which their cover was blown. Soon after, the three of them were captured by the Russian government which demanded to know why all their mutants were depowered and why Colossus, Wolverine, and Nightcrawler retained their abilities. After a battle with Omega Red, the three heroes returned to the U.S. and rejoined the team now living in San Francisco. [35]
Manifest Destiny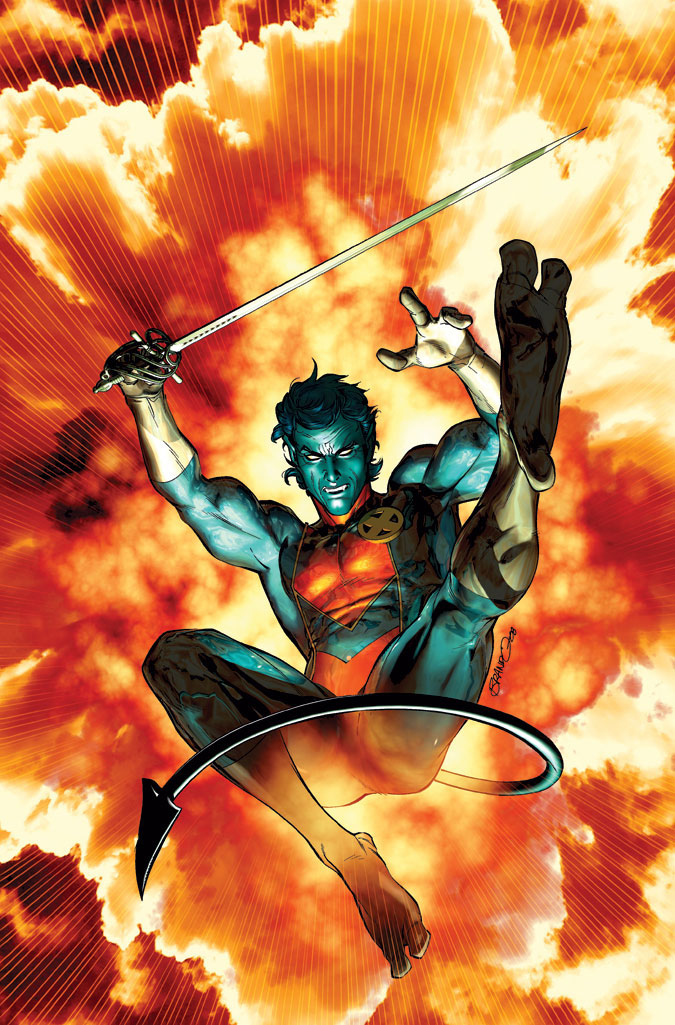 He took it upon himself to build a new chapel at Graymalkin Industries, the X-Men's new home and base of operations.
Nightcrawler soon quit the X-Men for a short time, feeling he wasn't needed since Pixie was a better teleporter than him, and planned to return to his homeland Winzeldorf. Another motive for leaving was when the denizens of Winzeldorf invited him to visit the new Nightcrawler Museum dedicated to him. He soon learned that the local townsfolk tricked him and needed Nightcrawler's aid in defeating a monster called the Vielfras. Nightcrawler fought with the creature, but quickly discovered that Vielfras was actually a sixteen-year-old boy named Henrik Weber, who was cursed by a Romani woman. After hearing Weber's tale, Nightcrawler sympathized with him, reflecting upon his own mistreatment at the hands of town villagers many years ago. Nightcrawler defended him when the townsfolk tracked them down, but was injured in the fight. Vielfras killed all of his attackers, then himself being unable to endure this monstrous lifestyle. Mephisto appeared to collect Weber's soul as well as the souls of the twelve men Weber had killed earlier, and Nightcrawler returned to the United States and rejoined the X-Men. [36]
Sacrifice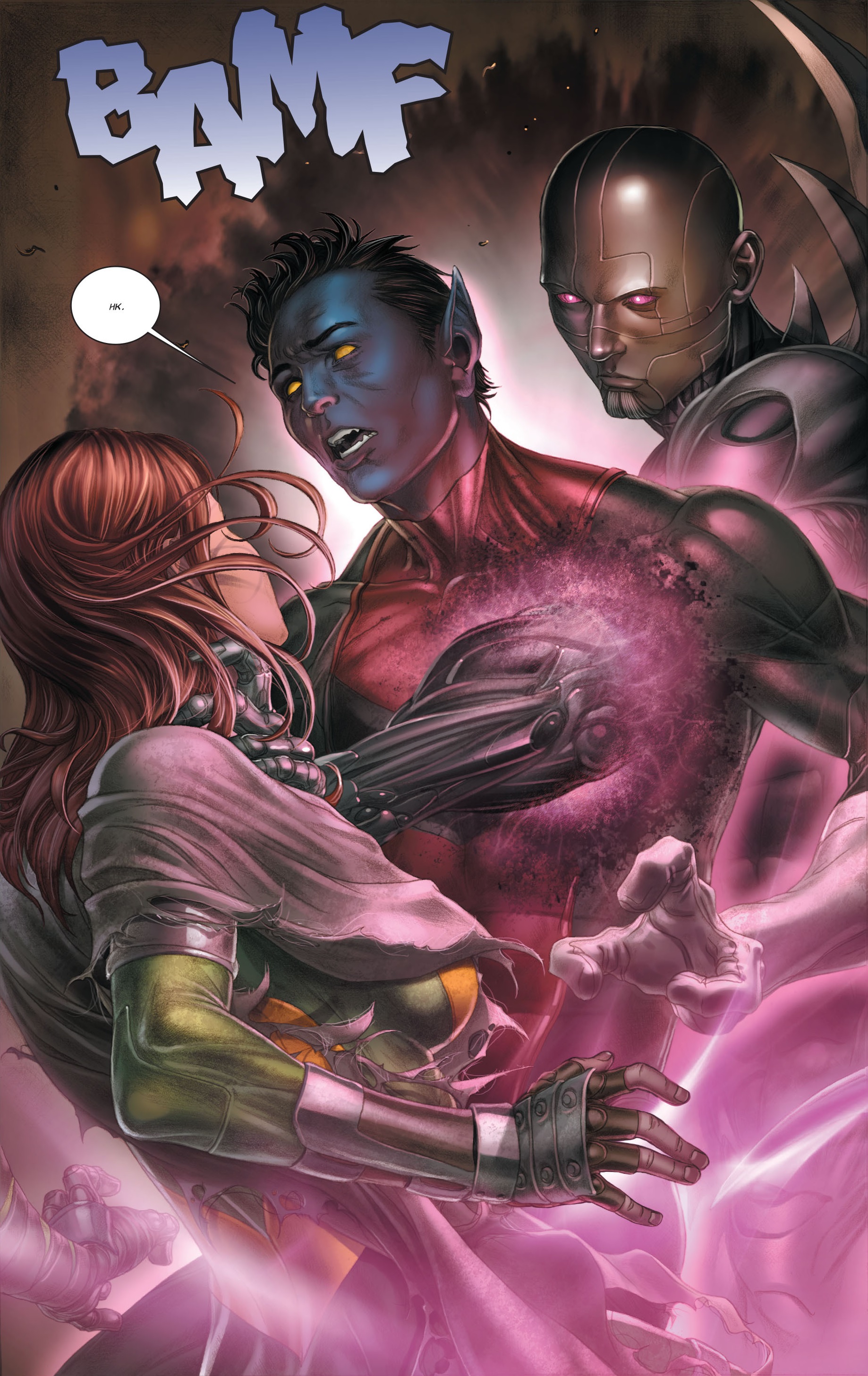 The Death of Nightcrawler
While on the run from Bastion, Kurt used his ability to get Hope as far across the country as possible. Bastion caught up with them, and anticipated one of Kurt's 'ports, putting his arm through Kurt's chest. Praying to God to give him one last jump of his life, Kurt brought Hope to Utopia, dying on its shore. [37]
The X-Men were devastated by Kurt's death (especially Wolverine), some blaming Hope or Cyclops. His cremation and eulogy took place on Utopia. It wasn't a Catholic funeral, but it was the best they could do under their circumstances. [38]
Wolverine Goes To Hell
Despite being dead, Kurt somehow was able to still help his friends on occasion. Kurt was next seen during the battle between Wolverine and the demon that was possessing his body. He realized that Wolverine would lose his mind and body if he did not help him. As a result, Kurt went to a special part of Wolverine's mind where he housed his image of Jean Grey so they can defeat the demon. When Kurt and Jean showed up in the battle they asked Kurt if he was a part of Wolverine's mind, however, he replied saying that he is the actual Nightcrawler. After the battle Kurt begged Wolverine to not seek revenge on those who did this to him, however, he refused to listen. [39]
Resurrection
Nightcrawler now resided in Heaven, where he was somewhat of a loner. Despite enjoying paradise, Nightcrawler continued to feel as though he had unfinished business, remaining on the periphery rather than actually joining the heavenly choir. When Azazel mounted an attack on Heaven using his connection to Kurt as a door, the other X-Men were able to create a portal to Heaven via the power of the Bamfs, allowing them to aid Kurt in his fight, and also intending to bring him back from the dead. [40] The plan succeeded, with Azazel defeated thanks to Professor X's own spirit following his death at Cyclops' hand, and Kurt was resurrected by the Bamf's powers to rejoin the Jean Grey X-Men. [41] Everyone celebrated his return but was cut short when Mystique came looking for Azazel. Kurt tried to stop both of them but was defeated. [42]
Trimegas
Kurt continued readjusting to life back in the land of the living. In addition to lacking a soul, many of the changes the X-Men had undergone, such as Professor Xavier's death, Wolverine's loss of his healing factor and Cyclops' secession and subsequent mutant revolution, rattled him. Still, he tried his best to cope. To this end, he reconnected with his former lover, Amanda Sefton, surprising her at her apartment one evening. However, shortly after their joyous reunion, Amanda came under attack by a villain calling itself «Trimega.» They temporarily thwarted its attack and escaped. Sensing the Trimega may target their mother Margali Szardos next, Kurt and Amanda traveled to their hometown of Winzeldorf to find the infamous witch. More Trimegas attacked, but they repelled them and returned to the Jean Grey School for Higher Learning in Westchester with Margali under their protection.
Despite the objections of the X-Men, Margali was allowed to stay with them while they figured out why they were under attack. Unfortunately, this turned out to be exactly what the mastermind behind the attack had planned all along—and why she sent the Trimegas after Kurt and Amanda in the first place.
The mastermind was soon revealed to be Margali Szardos. Once inside the X-Men's headquarters, Margali was able to forcibly extract from the X-Men the memories she needed to figure out how they traveled to the afterlife to rescue Nightcrawler—information she intended to use to bring the entirety of the afterlife under her control. Margali then opened a rift in the fabric of reality that led to the hereafter and prepared to subvert it to her will using her powerful magics. Nightcrawler and Amanda fought back and ultimately defeated her, but the rift remained open. Sensing that it could only be closed from the other side, Kurt and Amanda attempted to travel through the portal into the afterlife so they could seal it shut.
However, because Kurt had willfully chosen to leave Heaven once before, he was no longer allowed back in, leaving Amanda as the only one who could make the journey. To prevent the love of her life from destroying himself trying to reach her, Amanda sealed the rift with Kurt in the material world and her in the afterlife, asking him to find a way back to her somehow. Nightcrawler was left devastated as he found himself back in the realm of the living without the woman he loved. [43]
Jean Grey School
Kurt picked up the pieces of his heart after losing Amanda. He got more comfortable with the Bamfs and learned he could piggyback on their teleportation powers to overcome the limitations of his own. For instance, he found he could teleport «blind» into places the Bamfs had already visited, and combine his powers with theirs to teleport much farther than the previous three-mile threshold that used to limit what he could do. He also accepted a role as an instructor at the Jean Grey School for Higher Learning, where he helped train young mutants to use their powers. He took a particular liking to a plucky student named Scorpion Boy who had a scorpion-like physiology. He and Rico later teamed up to save a mutant genius named Ziggy Karst from the Crimson Pirates. [44]
Death of Wolverine
Not long after losing Amanda to the afterlife, Kurt's best friend Wolverine, previously considered unkillable because of his healing factor, died as well. Kurt struggled to cope with losing yet another of the people nearest and dearest to him. [45] Kurt and Piotr honored Logan by paying their respects to the grave of Mariko Yashida in Agarashima, Japan, and incidentally fighting waves of ninja warriors just like Logan would have. [46]
Second Death
Apparently Kurt's brief interaction with Bloody Bess left a strong impression on her. When she and her cohorts came under psychic attack by the Shadow King, Bess reached out to the first person she thought of who might be able to help her: Nightcrawler. In response to her telepathic S.O.S., Kurt 'ported across the globe with the help of the Bamfs to aid her. He helped her stave off the possessed Crimson Pirates for a while, but the situation worsened when the rest of the X-Men arrived in the Blackbird to aid their teammate and were in turn ensnared by the Shadow King as well. Thankfully, Nightcrawler, Psylocke and Bloody Bess were able to resist the Shadow King's possession long enough to send Kurt to the Astral Plane to confront Farouk directly. Kurt defeated him and the trio sealed him back in his prison. However, upon returning to the physical plane, Kurt and Bess were ambushed by the Crimson Pirates—no longer possessed but acting like jerks on their own accord—who then impaled Kurt after he and Bess refused to comply with their orders. Dying once more, Kurt ascended to the afterlife, only to be pulled into the Borderlands by Amanda Sefton. Amanda explained the Borderlands were a way station for people with unfinished business, and that Kurt had business to take care of back on Earth. After a brief encounter with the spirits of Phoenix and Wolverine, Kurt was sent back on his way to the mortal plane, where he returned to his mysteriously healed body. [47]
Second Resurrection
While Kurt was dead, the Crimson Pirates kidnapped Rico and Ziggy and transported them to the other-dimensional hideout of Tullamore Voge, where they were to be sold into slavery. Nightcrawler and Bloody Bess traveled to Voge's domain and rescued the young mutants as well as the other children Voge had captured. They then returned home with the rescued children in tow.
Nightcrawler took a brief, romantic vacation with Bloody Bess before returning to the Jean Grey School to resume his teaching duties. He explained to his friends that his romance with Bess did not in any way affect the bond he shared with Amanda Sefton, and that he trusted things would work out for the best. While Bess is away getting revenge on the Crimson Pirates for their transgressions, Kurt—soul or no—remains busy at the Jean Grey School for Higher Learning, serving as a teacher and a role model for the next generation of mutants. [48]
House of X
Nightcrawler was living on the sovereign Mutant nation state of Krakoa, created by Charles Xavier, Magneto and Moira X. Xavier and Magneto then tasked the X-Men with destroying the Mother Mold and preventing the creation of Nimrod. [49] Mystique was sucked into the vacuum of space before she could accomplish her part of the plan, dying shortly afterwards in space. Both Wolverine and Nightcrawler gave their lives to finish Mystique's task to send the Mother Mold, the key in the development of Nimrod, into the sun. The X-Men (Cyclops, Marvel Girl, Archangel, M, Husk, Mystique and Nightcrawler) accomplished their goal, but the entire team was killed in the attack. [50]
The team was later resurrected by a group of mutants known as "the Five" (Eva Bell, Proteus, Hope Summers, Elixir and Goldballs). Merging their powers, the Five were able transfer the deceased X-Men's minds into cloned bodies. They were later proclaimed as the heroes of Krakoa. [51]
Powers and Abilities
Power Grid [79]
Intelligence
3
Strength
2
Speed *
3
7
Durability
2
Energy Projection
1
Fighting Skills
3
* Teleporter
Powers
Nightcrawler is a mutant with the following abilities:
Immortality: Nightcrawler cannot return from the afterlife due to sacrificing his soul in order to resurrect himself. [64] This means Kurt cannot die by any natural means. [65] Although he did die on a mission in space when he was consumed by a corona, [50] but was later resurrected by the Five. [citation needed]
Abilities
Master Acrobat: Nightcrawler is an Olympic-class acrobat thanks to his flexible spine that allows him to perform contortionist-like feats and to go long periods in a semi-crouching position without injury. [citation needed]
Master Combatant: He is a skilled hand-to-hand combatant and a master at fencing, which he can even perform with his tail, which is strong enough to support his entire body weight. Martial arts training. [66] [40] [67]
Aviator: He has served as the team's pilot and, with Wolverine, has also been the mechanic of the X-Men's Blackbird jet for a long time. [citation needed]
Medic: He has been the team medic when there weren't any qualified X-Men around to do so. [68]
Multilingual: Nightcrawler is fluent in various languages due to his youth traveling around Europe as the star performer in a circus and knowing the language of wherever they were that week was very handy. He was a member of the X-Men when Professor Xavier telepathically taught the team Russian [69] and Japanese. [70] Kurt also speaks English, French, [citation needed] Spanish, [71] Krakoan, [citation needed] and Italian, [citation needed] as well as his native German.
Strength level
Nightcrawler possesses above average strength of a man of his age, height, and build who engages in intensive regular exercise. At his peak, Nightcrawler can lift about 250 lbs. [72]
Weaknesses
Despite Nightcrawler's superhuman powers, he is just as susceptible to disease and physical injury as any ordinary human. Also, because he is a Neyaphem, Angel's blood, which heals everyone else, hurts him, normally adding to whatever injury he received. [73]
Paraphernalia
Equipment
Image Inducers: At one time, Kurt always wore his image inducer in public because he was afraid of how people would treat him because of his mutation. However, after he lost a bet with Wolverine, he went out in public without his image inducer. He expected everyone's reaction to be fear and hate, but it turned out to be a reaction of curious interest. [74] He still has his image inducer, but hardly ever uses it unless he needs to. [46]
Transportation
Weapons
Notes
Trivia
Nightcrawler's German phrases
To keep authenticity, the writers (especially Chris Claremont) made Nightcrawler speak German phrases. But due to poor translation and/or simple lack of proper characters, these phrases were often a source of unintended comedy for native German speakers. Notable errors were:
Источник